Shakedown 1979
Copyright © Timothy Horrigan 2005-2008

[February 10, 2011] Billy Corgan has been working steadily with Jeff Schroeder on the "Teargarden by Kaleidyscope" series which is now up to volume 2 of a projected 11. The band's founding bassist d'Arcy Wretzky was in the news in early February, when she was arrested and incarcerated on charges of "Animals Running at Large." Apparently her horses escaped from their paddock and ran amuck in Berrien County, Michigan (not far from Chicago), and she never paid the fine. After missing four court dates, she surrendered to the sherrif's office in Van Buren County, Michigan (the next county over, where she lives) and is serving six days' jail time. As if just being in jail isn't humilating enough, her extraordinarily unflattering mug shot ended up all over the internet, including here on this page: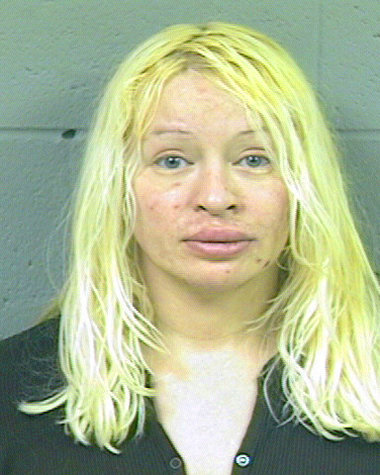 See:

[April 27, 2010] The Smashing Pumpkins broke up again in 2009. However, Billy Corgan has decided to keep working (somewhat sporadically) under the Smashing Pumpkins name, although sometimes he uses the band name "Spirits in the Sky" instead. He seems to be working in a 60's psychedelic-pop nostalgia groove. To tell you the truth, I kinda lost track of what he was up to. The SmashingPumpkins.com website which had been an encyclopedic portal for all things Crushing Gourd-related, decorated in neo-Socialist reds and blacks, is now a simple site dressed up in hippie-dippy pastels. He is currently working on a project entitled "Teargarden by Kaleidyscope." Volume 1 of a projected 11 volumes will be released as a "
very limited edition collector's EP
. [It] will be packaged in a beautiful collector's silk-screened wooden box. Each box will contain a 4-song CD, a vinyl 7" and a hand-carved obelisk." The announcement doesn't say who will be carving the obelisk.
The band now has a new blog:
They are also on Twitter, Facebook, YouTube and Flickr— as well as (for the oughties nostalgia buffs) MySpace.
Billy has recently become the slightly less-famous half of one of the most incongruous pop-music romances of all time, right up there with Cher & Gregg Allman, or Doris Day & Sly Stone. He got involved with Jessica Simpson. Or maybe they are just good friends: he told a Chicago Tribune interviewer in February 2010, "The stuff that I've seen doesn't have any bearing to the reality that I'm in. It's like being in a cartoon. It has nothing to do with what's really going on or how I feel."
---

[Jan. 1, 2009] I originally created this page way back in November 2004, when the Smashing Pumpkins seemed to be permanently broken up. Two years later, in the fall of 2006, Billy Corgan and Jimmy Chamberlain put a new version of the band back together, without James Iha. This seemingly ad hoc edition of the band seemed to have been created just for a 2007 tour, which in turn just seemed to have been undertaken as a means of cashing in on the continued popularity of the band's early material— but the new band kept going after the summer 2007 tour. The band recorded several singles and did a 20th anniversary tour in 2008— and Billy Corgan has occasionally tried to stir up controversy by (amongst other things) announcing that he would never make any more albums and that he was tired of the old material.

The band did release an album-length video at the end of 2008: a documentary about the 2007 tour entitled Smashing Pumpkins - If All Goes Wrong
.
SEE:
I haven't updated this page much since 2007: I have been busy with other stuff, some of which involved a certain famous Chicagoan.
---

The Smashing Pumpkins are back in business. Only two of the core members of the band are involved with the current incarnation— i.e., lead singer Billy Corgan and drummer Jimmy Chamberlin (who have regularly been working together on a variety of projects ever since the band broke up back in 2000.) But this is still exciting news.
A new album entitled Zeitgeist
was released in July 2007, supported by a six-month-long world tour. Jimmy and Billy are joined by bassist/vocalist Ginger Reyes (continuing a tradition of attractive female bassists) and guitarist Jeff Schroeder, as well as keyboardist/ vocalist Lisa Harriton. The new configuration of the band debuted at Le Grand Rex in Paris on May 22, 2007 to what an official press release described (with absolute objectivity, I am sure) as "a rapturous response." The band toured medium-sized venues in Europe before doing an extended residency at the Orange Peel in Asheville, NC. On July 7 (07-07-07), the Smashing Pumpkins were one of the headliners (along with Madonna, Al Gore, and Spinal Tap) at the worldwide Live Earth 2007 festival.
In July, the band did a second residency at the Fillmore West in San Francisco. Then, they played the Virgin Festival in Baltimore on August 4 and 5, where they were co-headliners with the Police. The Pumpkins had slightly higher billing: their show will be the climax of the second day. After the Virgin Festival, the Crushing Gourds returned to Europe for a series of arena dates and festivals, followed by a fall tour of North American gigs. The journey ended in Dallas, on November 18th.
After a couple of months off, the band continued touring, starting in Prague, continuing throughout Europe before heading off to New Zealand, Australia, Mexico and even Costa Rica. While the band was in Australia, there was a brief brouhaha when the band supposedly announced that they would not be making any more CDs. Even though the comeback was a success both commercially and artistically, the band was without a record deal because their one-record deal with Warners Bros. to put out Zeitgeist was not extended. And there was a rather odd lawsuit with their previous label, Virgin Records: Billy & Jimmy were angry because Pepsi
and Amazon.com
were using their old material in a "Pepsi Stuff"
promotion. The lawsuit was more sensible than it sounded at first: as Billy explained in a Billboard magazine interview in March 2008 there has been an ongoing dispute over what to do with the old material. In a March 24 blog entry, Jimmy said (using several extra exclamation points): "Although we may not use the album or full length cd as a format anymore, WE WILL WRITE AND RECORD MUSIC UNTIL WE ARE DEAD!!!!!!!! WE ARE NOT GOING AWAY!!!!!!!!" So, the band will still be releasing CDs, but they will be self-publishing them.
The Smashing Pumpkins and the Police were not the only legendary bands who reunited in 2007. Spinal Tap also reunited. You almost have to feel sorry for the Police. They used up almost a quarter century patching up their differences, and in a normal summer they would have been the biggest thing on the arena circuit. After all there are only three defunct bands on the planet bigger than the Police. But then not one but TWO of them stole the Police's thunder. (The Police's remaining rival — the Beatles — chose not to reunite. However, the band's two suriving members — Paul McCartney and Ringo Starr — have been worked with the Cirque de Soleil on a show entitled "LOVE" which incorporates many Beatles songs.)
---
---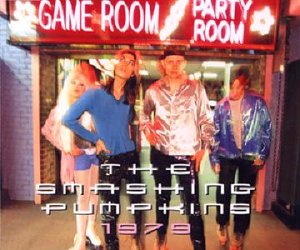 My novel The Forgotten Liars takes place mostly in 1979 and it has a Smashing Pumpkins-like flavor, even though I started writing it long before James Iha and Billy Corgan even met each other. (It is romantic yet cynical, and a little too ambitious for its own good.) For a variety of reasons, it seems only fair that I should add some Smashing Pumpkins-related content.
Unfortunately, aside from saying that they are one of my favorite bands, I don't have much that's new to say about them. That's OK, though, Billy and James and the others do a pretty good job of speaking for themselves. Especially Billy. All I need to say is that they are arguably the most important rock and roll act ever to come out of Chicago. (It's hard to think of one which comes close, since for some reason rock and roll is just about the only artform where Chicago is not a world leader. Yes, Michael Jackson did start his career a couple of exits up I-90 in Gary, Indiana, but he split for Neverland back when he was four feet tall and still recognizeably human. And, the Blues Brothers were great musically as well as comedically, but they weren't really a rock and roll band per se. Amongst 1990s rock acts, it's hard to think of many Chicagoans who come close to the Smashing Pumpkins' stature. Aside from college-rock ikon Liz Phair and industrial heavy metal noisemakers Ministry.)
If you have heard them on the radio and are not sure what CDs to get, I will arbitrarily say that the first CD to get is Pisces Iscariot,
which is a raw and rocking anthology of B-sides, demo tapes, etc. The band's magnum opus was 1995's 2-disc Mellon Collie and the Infinite Sadness,
which includes the song "1979." Their second album, Siamese Dream,
is a more succinct statement in the same vein as Mellon Collie and the Infinite Sadness.
And the other records I didn't mention are all great, too.
Their life story has been told many times, and will be told many more times in the future, and it is far from over anyway. So I don't have to go into a lot of detail.
The story began in Chicago, in 1988, when two struggling singer/guitarists (and occasional college students) named James Iha and Billy Corgan began playing together. Soon, they recruited James' then-girlfriend D'Arcy Wretzky to play bass, and a slightly older acquaintance named Jimmy Chamberlin to play the drums. After a couple of years, the band made a low-budget EP (Lull) and an equally low-budget full-length album (Gish.)
The relative commercial success of Gish garnered them a deal with Virgin and they subsequently put out the intricately-layered and highly radio-friendly Siamese Dream. The band was supposed to release their next album in time for the Christmas 1994 season, but Mellon Collie and the Infinite Sadness turned out to be a 2-CD epic which didn't come out till the fall of 1995. So, in late 1994, assorted B-sides, demo tapes and other oddments were hastily assembled into Pisces Iscariot, which is in fact their greatest album. Mellon Collie, when it finally appeared, was a massive success on every level. It was well worth the wait.
But then tragedy struck during the Mellon Collie tour: in July 1996 a member of the band's entourage died of a heroin overdose in Jimmy's hotel room in New York City, and Jimmy himself came close to dying as well. (The other members of the band, none of whom were into drugs, were staying at a different hotel across town.) Jimmy got kicked out of the band and also faced a variety of criminal charges. The band continued for a few years with a variety of different drummers. The original quartet reunited briefly in 1999, but then d'Arcy Wretzky left the band, to be replaced by Melissa Auf Der Mar. The last official CD was 2000's Machina.
The band also put out a rarely-heard follow-up entitled Machina II. It was released in the form of exactly 25 copies and no more of a 2-vinyl-LP set. These analog LPs were digitized (with the band's blessing) and MP3s can be found on the usual illicit venues — as well as on the band's own web site. .
D'Arcy has remained completely retired from the music business, but the other have been involved in various projects. In the summer of 2005, Billy released his first solo album, The Future Embrace. As part of the hype surrounding its release, Billy took out newspaper ads with an open letter to his fellow ex-Pumpkins, calling for the band to get back together. Jimmy (who had been working with Billy all along) immediately said Yes. James and d'Arcy remained silent, as did Melissa Auf Der Mar.
In the spring of 2006, plausible media reports began circulating (e.g., an April 21, 2006 MTVNews.com story) that the band had reunited and had gone back into the studio. The old SmashingPumpkins.com website was revived, albeit with only minimal content at first. (The address had been pointing to Billy's blog for quite some time.) It is unclear who, aside from Billy & Jimmy, was involved with the recording sessions, although it is known that they worked with producers Roy Thomas Baker and Terry Date.
In late March 2007, the name of the album— Zeitgeist
— was announced, along with a release date— July 7, 2007 ("07-07-07"). In May 2007, Billy and Jimmy went on tour, accompanied by three talented but relatively little-known backup musicians.
---
---
A few websites to check out:
Web Directories about Smashing Pumpkins:
A couple of places to buy Smashing Pumpkins CDs:
---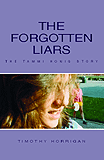 Tim Horrigan's Novel The Forgotten Liars
---
---