!—- ShareThis BEGIN -—> <!—- ShareThis END -—>
Timothy Horrigan's Forgotten Liars Home Page
---
Light Up
The Dark Times
By Reading
We are as clouds that veil the midnight moon;
How restlessly they speed, and gleam, and quiver,
Streaking the darkness radiantly! — yet soon
Night closes round, and they are lost for ever:
(Quote from " Mutability ," by Percy Bysshe Shelley)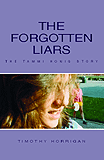 The Forgotten Liars ( Xlibris , 2004)
Back in the days when New York City was still dangerous, dirty, and romantic— back in the days of punk rock, Thai stick, and Checker cabs— sometime in September in the late afternoon (or perhaps the very early evening)— Billy McEwan met Tammi Honig...
To Learn More, See:
---

The Forgotten Liars is available on Amazon.com!
Or: Click here to learn about some of the many other places to buy The Forgotten Liars...
---
Timothy Horrigan, Author of The Forgotten Liars
---
More Reasonably Good Stuff:
---

Columbia-related readers may be interested in my half-dozen excerpts from my novel "The Forgotten Liars," each of which is set at a specific location on Morningside Heights:
---
---
"There is no magical release from the past, there is only responsibility for it."
From "You Are Not the One Who Gets Loved" , by Adi Da Samraj .
---
Tim Horrigan; 7A Faculty Road; Durham, NH 03824 USA; ph: 1-603-868-3342
Timothy.Horrigan@Alumni.USC.Edu
Copyright © 2018 Timothy Horrigan
Click here for more info on Timothy Horrigan!
Click here learn about Timothy Horrigan's other published works!
Click here to learn about other people named Timothy Horrigan!
Click here for my web site's privacy policy.
---
---