Read "It Hit Me Like a Ton of Bricks" by Catherine Lloyd Burns!
(extraneous commentary by Tim Horrigan, June 12, 2006)
---
One of my old college chums, Catherine Lloyd Burns has a wonderful book out, a memoir entitled It Hit Me Like a Ton of Bricks : A Memoir of a Mother and Daughter.
She definitely rates a place on my Miscellaneous Links page, even though her web site is only one page long:

While I'm on a tangent about the Web, I should mention that her mother, Red Burns (the woman in the upper left hand corner of the front cover of the book), had a lot to do with the invention of the Web as we know it today. Back in the early 1970s she was a film-maker who saw the potential of cheap cable-TV bandwidth and even cheaper video cameras, and for many years she has been the head of a wide-ranging new media project at New York University, the Interactive Telecommunications Program:

Tampax's Mother Nature.


It Hit Me Like a Ton of Bricks : A Memoir of a Mother and Daughter by Catherine Lloyd Burns. Farrar Straus & Giroux/ North Point 2006. ISBN: 0-86547-708-6.

Available from:

So, anyway, the thing is, I feel like quickly cobbling together a Fan Page. First let me say that Catherine is Canadian, hence the title refers to being hit with 1000kg of bricks (which is about 200lb more than the American 2000-pound ton.)
The book is about three generations of Burns women: catherine's mother Red (originally, Goldie), Catherine, and Catherine's daughter Olive (sometimes known as Ollie and/or Tweety.) I never met Catherine's mother, though I feel like I met her because I visited her apartment a few times and spoke to her on the phone once or twice. Occasionally, Catherine liked to invite a few of us over when her mother was away. We were a pretty scurvy crew but we always behaved well at the huge and absurdly well-furnished apartment overlooking Washington Square Park. (It was like something out of a freakin' Woody Allen movie: in my memory the apartment took up an entire city block.) Catherine herself always lived elsewhere: first she had a place on Claremont Avenue in a colorfully named building called the Medina (or possibly its twin, the Mecca, which was next door), then a couple of places near the corner of 110th and Broadway, and then she eventually ended downtown in a cute little studio on Washington Place in the same building where Mayor Koch lived. As far as I know the title of the book does not refer to an incident one gray Sunday morning in 1980 when the ceiling of the place on Claremont Avenue literally fell on her: it was a big mess, but it was less than 1000kg of stuff which fell on her, and anyway it was plaster, not brick.
Her book is in large part a harrowing (yet ultimately redemptive) saga of drugs, madness and bulimia— but I actually remember Catherine as being a solid type, one of those friends who serves (or tries to serve) as an anchor of sanity. I suppose she did go through a bulimic phase at some point, but she was also a generally good eater and she was (presumably, still is) quite a good cook. Perhaps this means that her story is exaggerated, but more likely this means my friends at the time were so nutty that even one of my sanest friends was still a whack job. And of course it means that what I remember is quite different from what someone else remembers from the same period.
Catherine is the model for Jenny in the Forgotten Liars, although my Jenny marries a boy quite different from the man Catherine married in real life. (Ironically, the guy who was the primary model for Jenny's husband Byron married a woman named Jenny.)
In addition to writing this book, Catherine wrote the screenplay for the film Everything Put Together, has been in a number of movies, and she was Malcolm's grade school teacher on Malcolm in the Middle. I had absolutely nothing to do with her success except I did help her pick out her stage name. It was on a disappointingly cold night in May 1986, and she and I and the head bartender from the Great Jones Cafe were sitting at a sidewalk cafe somewhere on First Avenue. At the time she was known as Cathy Burns, but there was another actor named Cathy Burns. This was not a problem until Cathy ("our" Cathy, I mean) reached the point where she could join the union. She thought of being Franny Lloyd, which was JD Salinger-ish. So I suggested Catherine Bernstein, which she said was "too Jewish," which seemed like saying that my name, Timothy Horrigan was "too Irish." I told her that her stage name should something as close to her real name as possible— and she ended up choosing the name Catherine Lloyd Burns. I wasn't just saying that because I have anything against actors using fake names: I just felt that this actor needed to use her real name. Lloyd Burns was her late father's name, by the way. In all fairness, she probably would have picked that name without my input (and I also suggested some alternatives that were even more offbeat than "Frannie Lloyd." The only one I remember was the real name of someone I didn't really know when I was in grad school at USC: Marisa d'Amico. Which is a good name if you're Italian, especially it's your real name.)
(The bartender was my best friend for many years, but we drifted apart. He's no longer a bartender. But for a long time he was the most illustrious bartender in the East Village, until he gave up alcohol altogether and started leading a totally different life. He was more powerful than the Mayor. He is even more absent from Cathy's book than I am. There is a sad but kinda funny story about mother and children which is also missing from the book. One particularly gloomy winter, many years before he became the East Village's most famous bartender, for reasons which were never made clear, he invited Cathy, myself, and his cousin to fly down from the City to stay at his mother's condo on the Gulf of Mexico for a few days. He had an incredibly difficult mother— 100,000 times more difficult than Cathy's mom, and 50,000 times more difficult than mine. But Cathy loved her right away and actually told us how much fun she was.)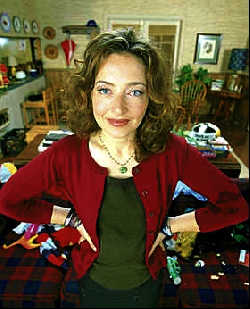 (Catherine as Malcolm's teacher)
---
Here is my Amazon.com
review of "It Hit Me Like a Ton of Bricks."
***** "She perfectly captures the looks and smells of everything.", June 22, 2006
I was gonna wait and think about this book for a while I after read it... but RM's sister's review annoyed me. (Although, the sister did give Catherine 1 Star instead of the lowest possible 0 stars.)

I'm not the most objective reader of this book, since Cathy Burns (to use the name I knew her best by) was my friend during a period which was for me the great adventure (as of mid-2006) of my life and for her a dark period so depressing that she mentions it only fragmentarily in this otherwise lively and detailed memoir. I was in her orbit especially while we were both students at Columbia, during the years chronicled (with many fictional inventions) in my epic novel "The Forgotten Liars.") She also turned up frequently in my life in the late 1980s (which is covered in the book.) And I haven't seen much of her since her life really began after her acting and writing career took off in the 1990s (though I think she did introduce me to her wonderful second husband back when the two of them were just acquaintances.) Even during the 1980s there was (understandably) a lot of stuff I forgot or didn't know in the first place: even the first marriage was news to me.

(DIGRESSION: She actually went to Barnard College, which technically is an autonomous institution in its own right. However, for all practical purposes it operates as one of Columbia's many Schools and Colleges. It's kind of a moot point, anyway, since she eventually transferred to NYU.)


I'm not really in the book at all. There is a passing reference to an incident I was involved in, when we had a pyramid-scheme party at her mother's apartment on Washington Square. And there is also a passsing reference to the great love of my life (once again as of June 2006), who was the girl who introduced Cathy to Tavern on the Green and who started her on her career as a well-dressed bulimic and who gassed herself in her apartment. (The story I heard was that our friend ODed on her prescription meds, but that's the story I remember hearing. Other people remember hearing other stories, and what the hell, it was a long time ago and we're still here and she's not. And moreover, even if I had actually been present when our friend killed herself--- which I was very much wasn't--- I would have remembered something different from what the other observers remembered.)

I suppose there are things I remember differently than she did, but the only factual error I spotted was that she said she was a "drug-using, bulimic, failed Barnard student" with dirty hair and dity clothes. She was not a failure. Her hair and her clothes were always tres stylish. And the bulimia and drug use were just endemic to the time: she may have been a little nuts but everyone was nuts back then. She was actually less insane than the vast majority of those around her. I don't if this just goes to show that I was even more messed up than I thought I was, or whether I didn't know how badly off this particular friend was, or whether she remembers things as being worse than they seemed at the time. Probably a little of all three.

It's just as well I'm not in the book: she's way more interesting than I am. She's kind of young to be writing her memoirs, but the book does cover almost the entire life cycle. This is the story of three generations of Burns women--- Red (originally Goldie), Catherine and Olive--- all three of whom are infuriating at time but (almost) always delightful.

The story begins when Catherine is in grade school and her mother in her 40s and ends when Catherine is in her 40s and her daughter is just about to head off to school. Cathy's childhood sounds like it was rather lonely, especially after her father died when she was about 9 years old and her mother started pursuing her own life. Her mother is, by this account at least, one of those people who cares about other people a lot but finds them difficult to get along with. And after her husband died, she may have forgotten at times that her daughter Cathy (who had three siblings who were much older than her) was just a little girl. So there's a lot of sad moments in the early part of the book. But as the book progresses, things get better, and Cathy finally becomes much closer to her mother after her mother also becomes her daughter Olive's grandmother.

The book is worth reading just for the author's vivid descriptions and off-beat observations, by the way... She perfectly captures the looks and smells of everything from big stuff like giving birth to little stuff like waiting in line at the supermarket.

***
And anyway, here is her publisher's press kit:
---
It Hit Me Like a Ton of Bricks
A Memoir of a Mother and Daughter
Catherine Lloyd Burns




Farrar, Straus and Giroux
240 pages
Size: 5 1/2 x 8 1/4
$23.00
Hardcover

North Point Press
Pub Date: 05/2006
ISBN: 0-86547-708-6






"Life is a series of losses. I've decided to be very Zen about it. I have lost two husbands, my parents, my brother, countless friends; it is just one loss after another. You might as well get used to it." So muses the author's mother in this poignant and humorous memoir about mothers and daughters.

Loss is a way of life for both Catherine and her mother. But where it made the daughter ravenous for contact, it made the mother lose her appetite for people. While the two always had a fierce attachment, by turns intimate and tumultuous, decades of fractious and contentious and frustrating interactions found a reprieve after the birth of Catherine's daughter, Olive. Witty and direct, weaving back and forth in time, the book charts the transformation of this volatile and unique mother-daughter relationship from longing to connection.

A book about love, mortality, and the nature of family bonds, It Hit Me Like a Ton of Bricks is a must-read for anyone trying to navigate their way through the distance between their fantasies of love and the realities of family relationships.




Quotes

"From the very first sentence of Catherine Burns' simultaneously very funny and very poignant book, it is apparent that we are in assured hands. The ambivalence, closeness, and fractious bond of mothers and daughters has rarely been so keenly and beautifully observed. Filled with moments of hilarity and heartbreak, any reader, male or female, who has ever had a mother, will find here vindication and finely calibrated sympathy. It shouldn't come as a complete surprise that Burns is an indelible literary presence; anyone who has had the privilege to see her act cannot forget her. But still, what an accomplishment it is to find that, on paper, she is also possessed of that rarest and most yearned-for of qualities: a voice." —David Rakoff, author of Fraud

"It Hit Me Like a Ton of Bricks is written with such disarming honesty that it would be uncomfortably unsettling if it weren't tempered by equal doses of stunning wit. The story sneaks up on you and grabs you and before you know it, it's tomorrow morning. Burns can flat out write and she does it with her eyes wide open, foot flat on the pedal and all the windows down - it's an exhilarating read. I couldn't find a word out of place." —Alexandra Fuller, author of Don't Let's Go to the Dogs Tonight: An African Childhood




Author Biography

As an actress, Catherine Lloyd Burns has appeared on numerous television shows, including Malcolm in the Middle, E.R., Law and Order, and Al Franken's Lateline. This is her first book. She lives in Brooklyn, New York, with her husband and daughter.



Excerpted from It Hit Me Like a Ton of Bricks by Catherine Lloyd Burns. Copyright © 2006 by Catherine Lloyd Burns. Published in May 2006 by Farrar, Straus and Giroux, LLC. All rights reserved.

SOMETHING NICE ABOUT MY MOTHER

My answering machine is ablaze. I have sixteen messages, all from her. She needs to see me right away. What a pain in the ass. She lives in the Village. I live in Harlem. "Please hurry," she begs.

I walk in her front door an hour and a half later. She is in tears. I have been her daughter for nineteen years and this is the first time I have ever seen her cry. I don't like it. I thought I would like it. I concentrate on hanging up my vintage faux fur coat. "I thought you were dead," she tells my back.

"Well I'm not," I say. She leads me to the living room, to the center of the U made by her three white Knoll sofas. There are tissues everywhere. She is shaking, clinging to me.

Oh my God, I think, this is it. This is the moment I have steered my whole little life toward.

"I'm so glad to see you," she says, blowing her nose. "I thought you were dead. I was terrified you were dead."

"I'm not," I repeat.

"And then it hit me like a ton of bricks."

I sit down next to her. She is going to reach out to me. She is going to apologize. I look into her bloodshot blue eyes.

"It suddenly hit me today," she says. "I don't know why, but it hit me like a ton of bricks. This has nothing to do with me. If you kill yourself, it is simply not my fault. I am off the hook. None of this is my fault. I am not responsible." She looks almost euphoric as she takes my hand. "And I couldn't wait to tell you."
---
More Stuff:
---
---
---